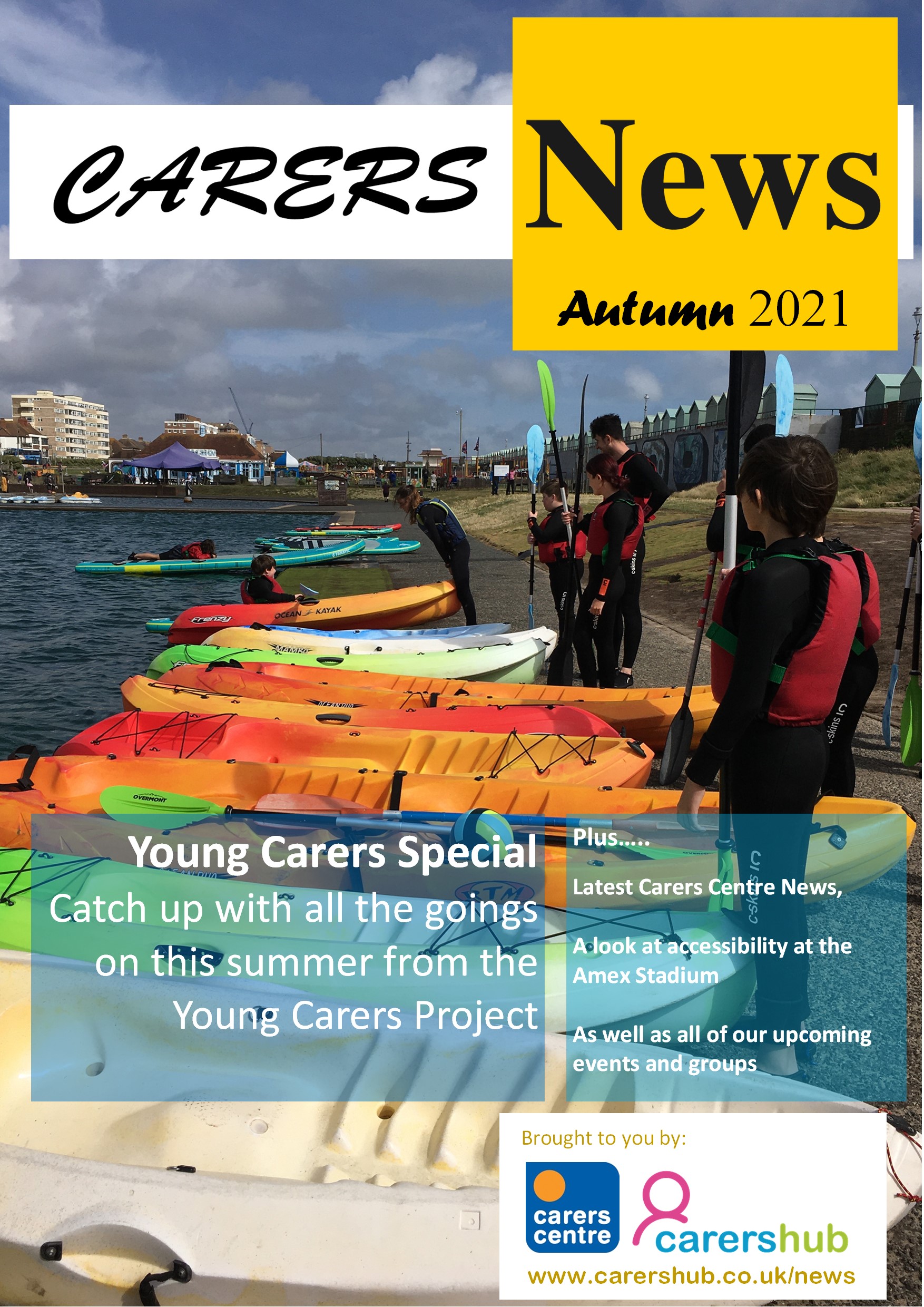 Carers News Autumn Edition Out Now
Hello and welcome to another packed edition of Carers News.

In this issue we catch up with all the goings on at the Young Carers Project over the summer holidays.

We take a look spotting the signs for hearing loss and offer the RNID tips for better communication.

Updates for our working Carers.

We take a look at accessibility at Brighton and Hove Albion's home ground, the Amex.

Updates from the Carers Engagement Project, including info about the new translation feature on the Carers Hub website.

As well as a look at all of our upcoming events and activities.

Click here to view your digital copy of Carers News Autumn edition

Hope you have a lovely Autumn and look forward to seeing you in the Winter Edition.
There has been an increase in unpaid, family friend, carers, providing more hours of care, having less opportunities for breaks and time away from caring. This will have a big impact on the many who are caring, both adult carers and young carers. It is important we keep asking the question 'are you looking after someone' and letting carers know that there is support out there for them, so they are not left to care alone and can think about their own wellbeing.
A new information pack has been developed by the Carers Centre. The new online carers information pack can be found on the Carers Centre website.
https://www.thecarerscentre.org/information-pack/
This is a new resource we have developed to try and help people access our information where they are using more online services and less likely to be able to receive one of the carer information packs from within a GP practice.
Welcome to Carers News Autumn 2020
Hello and welcome to our Autumn Edition of Carers News….
Coming up in this issue we bring you all the goings on from the Carers Centre and how we have been reaching out to Carers through Lock Down. Meet our Young Carers Team Leader, Ruth in our Meet the Team pages. Catch up with all of the great activities the Young Carers have been running through the summer. And don't forget our events pages at the back, showing you everything we have coming up over the next few weeks.

Click here to see a pdf version of Carers News Autumn 2020
The Carers Hub support line is still available on 01273 977000 if there is no answer, please leave a message and we will return your call.

Best wishes to all
The Carers News Team
Register a Carer
It is important that we know if you are a carer so that we can make sure you receive information, services and the help that is available. If you are a carer please complete the online form below.
Carers UK
They're here to make sure that no matter how complicated your query or your experience, you don't have to care alone.
Telephone: 020 7378 4999
Website: www.carersuk.org
Carers' Rights Day
As we look towards Carers Rights Day 2020 it is really important that we recognise how the COVID 19 pandemic has caused devastating effects on the lives of carers and those they care for.
Carers UK the leading charity for unpaid family carers has carried out research, which provides us with powerful evidence on how COVID 19 is impacting carers.
There were up to 9.1 million unpaid carers across the UK before the pandemic. It is now estimated that as a result of the pandemic 4.5 million people have taken on a caring role, providing everything from a few hours of support a week to intensive and complex round the clock care. Carers are managing without the usual help from family and friends, and with limited or no support from local services as day services are either not running or running on reduced capacity meaning carers have no option for respite and time for themselves.
(caring behind closed doors six months on Carers UK)
To support carers Rights day this year we want to support carers to access Carers UK Digital Resources for Carers. This is a FREE resource for carers to find out about their right and have the opportunity go through online learning modules, using code BHCC_JT75. We will be running a guided tutorial for carers on Thursday 26th November 2020.
https://www.thecarerscentre.org/events/​